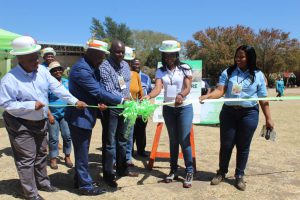 MEDIA RELEASE
For immediate release
17 September 2018
MADIBENG MAIDEN HORTICULTURE SHOW SUCCESFUL
Madibeng- Farmers in Brits, the country's largest onion exporter together with others from and across the platinum rich district municipality of Bojanala held a successful maiden horticulture expo last Friday, 14 September 2018 under the theme, "Horticulture growth through exposure."
Led by the North West Department of Rural, Environment and Agricultural Development (READ) in partnership with the Madibeng Local Municipality, the expo attracted hundreds of horticulturalists who came to showcase variety of their produce which includes flowers, vegetables, fruits, ornamental trees, herbs and other related produce.
Horticulturists work directly with plants, overseeing all aspects of breeding, selection, planting, care, and production. This is a segment of the agriculture industry which includes the production and use of plants for food and beautification.
The expo was another effort by the government to create a much needed platform by farmers in the said district to market their produce but also an opportunity for the entire province to showcase what the horticulture sector in the region of Madibeng has to offer.
Mmabatho Moanakoena, owner of Mosaditshwene Project from Moses Kotane area is one of many exhibitors who participated during this expo. In this project, they specialise with indigenous herbs and trees. She said she was happy to be amongst the first people in Bojanala to participate in the district's maiden horticulture expo.
"I am over the moon," said Moanakoena last Friday. "We appreciate the effort by our provincial Department of READ with the local municipality of Madibeng. We have been waiting for this opportunity for a very long time and we are glad today that it has finally arrived," elated Moanakoena said.
Asked if people who came to the expo have supported her by buying her produce on the day, she quipped "a lot"!
The same sentiments were shared by exhibitors from Moruleng outside Rustenburg town. Esther Lechina of Thuso Ya Batho Moringa Project was also happy for the platform given to them by government. "People have been coming and visiting our stall the whole day and they did buy our products," Lechina said.
They offered healthy products on the day and also taught people about the importance of eating healthy and protecting indigenous trees like Moringa.
Addressing the horticulturists, exhibitors and people who came to support the expo, the Chief Director for Farmer Support and Development from READ Department Mr Thebe Mothusi who was speaking on behalf of MEC Manketsi Tlhape said the expo would be an annual event to give farmers much needed exposure for their produce.
Mothusi went on to challenge horticulturists and farmers to ensure that they bring new entrepreneurs into the horticulture sector to address the triple challenges of unemployment, poverty, and inequality.
"The Bojanala District, particularly Madibeng Local Municipality is tipped as comparative advantaged on horticulture production. With the infrastructure, rainfall pattern and the location of Madibeng Local Municipality, there is a huge opportunity to produce vegetables, citrus and ornamentals of high quality and quantity required by quality conscious buyers. We therefore like to encourage farmers to use this to their advantage," said Thebe Mothusi.
He pledged financial support to those schools who attended the expo. "To encourage learners to take up agriculture as a career of choice, we are going to make sure that we buy schools present here today agricultural equipment and tools for their learners," pledged Mothusi.
He further encouraged those farmers who are yet to register with the departmental farmer data base to do so.
Lot Mashiane of Mothutlung High School welcomed the gesture by the department to assist their school with much needed tools especially for their agriculture subject.
Madibeng Horticulture Expo will be hosted annually to give local farmers, industry people and other stakeholders a platform to showcase their produce, network and share knowledge amongst them as well as to expand and diversify their farming activities.
CAPTIONS
IMG 9939 : Chief Director for Farmer Support and Development Mr thebe Mothusi addressing horticulturists, exhibitors and people who came to support the first Madibeng Horticulture Expo held in Brits last Friday.
IMG 9950: Dignitaries from North West Department of Rural, Environment and Agricultural Development and Madibeng Local Municipality cutting the ribbon to mark the launch of Madibeng Horticulture Expo.
IMG 9724 : Mmabatho Moanakoena owner and founder of Mosaditshwene Project from Moses Kotane Local Municipality was happy to be part of Madibeng's maiden horticulture Expo.
###Ends###
Issued by the Communication Services Directorate
Enquiries: Ms Emelda Setlhako
Tel: 018 389 5684
Cell: 060 745 4020
Email: ESetlhako@nwpg.gov.za
Website:www.nwpg.gov.za/Agriculture/
Facebook:www.facebook.com/nwpread